...Blackstars... Bowie's birthday... and our new Lil Bo-calendars....
That's how we just wanted to start this year. We had a wonderful party weekend in Berlin for the release of "Blackstar". What a great album!
- But sometimes things are different. We are devastated.
I even did not yet have a look at my party-photographs.

R.I.P. our dear friend David Bowie. Thank you for everything!
My condolences to the family.
World is in mourning, but heaven is now a better place.

here is a link to our pictures from the Lazarus-Premiere in New York at December 7th:
http://www.bowiefun.com/.../nyc_lazarus2015..
The silly comments now look cheesy, but we leave them there to show how happy we were.
Lopster, january 11th 2016





H a P p Y C h R i S t M a S !
Another year over... ! We are wishing you all wonderful christmas-holidays and a great new (and peaceful!) new year 2015!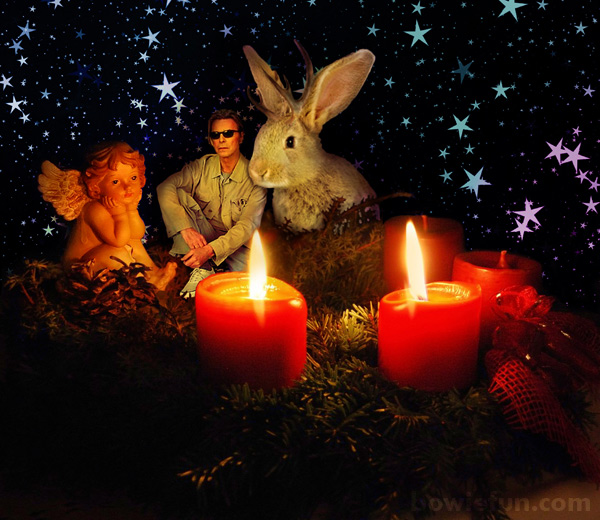 Lopster, xmas 2014




...Ack...!

We had a big Bowie Exhibition here in Berlin!
Yes... and it was so exciting, that we forgot the updates here.
But, I think, everybody noticed - even without us talking about it... ? ;)
Well, and then we got the flu and the year was much too quickly over.
My, my, the time do fly... We know that.
"more music soon" !
- Yes, and we got the Ladies "Sue" and the "whore" - great tracks, btw.
Now we are again busy for next year's events! ;)
Oh, we forgot something:
Lil' Bo's pocketcalendars 2014! Already sold out... and delivered... but we need the picture: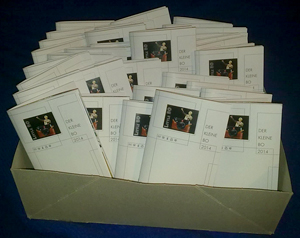 ...and the Little Bo calendar web pages 2014 are finally online, too!
(well, this year we were convinced we had put it online already in Spring - but - seems we forgot!)
...and 2015 is already in the making...!
Stay tuned! We will soon be back here! :)
Lopster, november 15th 2014




H a PPyBiR th D aY!

What? Again a Bowiebirthday?
We are not yet really finished with the last one. Still listening to "The Next Day".
Still loving it.
But here we are! - wishing our best comrade and source of inspiration a wonderful birthday and many happy returns! Thank you for the music!
Lopster, january 8th 2014
(very busy as always at this time of the year.
Little Bo's calendars are just nearly finished! Stay tuned...!)



THE NEXT DAY! - is dawning...



We are terribly busy these days. But we are absolutely happy and proud of
our sailorman, that he released another wonderful album!
YES, it's really good! We are already addicted.
And...even more ... the Bowienet is back online!
Well, we always kept the fire burning, of course. We knew he would come back ;)
Have we ever been bitchy against our best comrade in the world wide web?
No... never... :-}
And, we all know: more and new Bowie, that means more and new Bowiefun!
See here some advertisings in Berlin: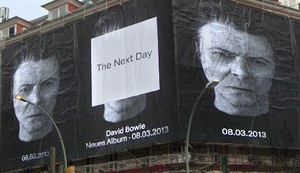 btw. ...noticed that the "Phanteon"-magazine in the wonderful "Stars"-Video pretty
much looks like one of our Hot Stuff - mags?



(the next) Lopster, march 8th 2013

PS... The Little Bo calendar web pages 2013 are nearly finished! Will be online soon!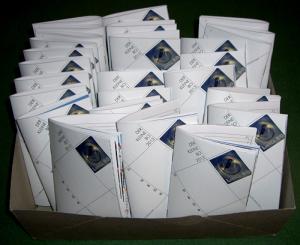 Calendars have all been delivered! Little Bo likes to thank you all for your support!
(and he says he's not just a Bowie substiute)




H a P p Y b I r T h D a Y !

...to Mr Bowie! :)
...and to us! Because we guess you heard the news?
New Single out...and new album in march!
And Bowienet finally got some relaunch... (well, sort of)
we are just in hurry... more soon!

Lopster, jan 8th 2013





...just to have mentioned...

Big fat Bowienet finally is down.... ...but we are still there!

Lopster, march 2012





Happy New Year! And Happy Bowiebirthday!

Ack, we've not been here for a long time. Sorry. 2011 was a busy year, but now we are back. We are hoping you all had nice Christmas holidays and a wonderful new year 2012!
And of course, a very Happy Birthday to our favourite Sailorman, turning 65 at january 8th! :)
There are not many Bowiefun-News, which maybe depends on the lack of Bowienews at all. But, well, we're keeping the fire hot... And we are happy that we managed to finish this year's Little Bo Pocketcalendar (unfortunately just in German language), despite some computer issues.... The Little Bo calendar-Website will sooon be updated, too. Stay tuned for the 2012-section. ;)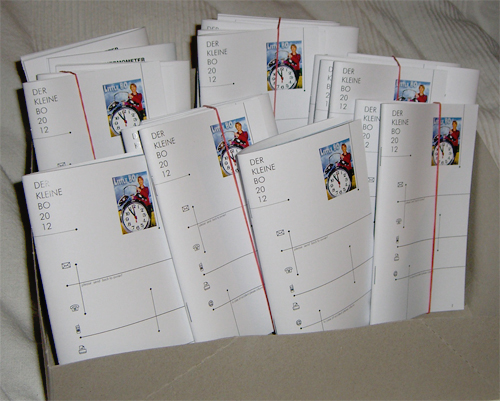 ...and... btw... you still can buy the Book "Hinterland"...

Lopster, 8th Jan 2012





Happy Easter!

Wishing all a very Happy Easter 2011!
Enjoy your new TOYs! :))) - "Hole in the ground" is really a gem. And I guess the easter bunny's favourite song! The jackalopes are still discussing. But their favourite movie still is "Night of the Lepus". I really don't know why!
We now also recommend the new movie "Source Code" we could already enjoy in a preview.
What else..? Oh, nothing more... but we soon will be back with that promised update of the Little Bo calendar-Website website (oops... we absolutely forgot to upload that, although the calendar sold so well this year! Little Bo also did not say a word - now we have to search for the files on the several harddrives, datasticks, Laptops..).
Well, this is not an excuse, but we are still very worried about the state of the world... these first four months of this year were disturbing...
...and... btw... you still can buy the Book "Hinterland"...

Lopster, 21st april 2011





Happy Birthday, Bowie....!

Yes, it's Bowiebirthday again... and time to quote the Beatles "When I'm sixty-four!"
Happy Birthday, old Sailorman! Have a great one! :)

...and... *cough*... belated... Happy Christmas and Happy New Year 2011!
(this year we have been pretty lazy with season's greetings. Sorry)

Well, now we are also happy to present the new Little Bo Pocketcalendar for 2011!
Here it is!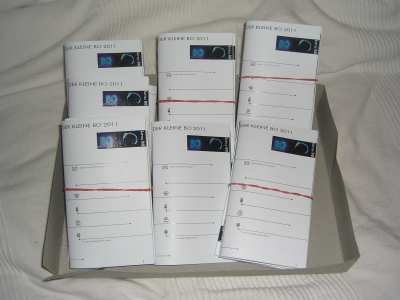 The accompanying website will soon be updated!
Unfortunately this calendar is not officially for sale... guess we would get in trouble... you just can send us an E-Mail if interested...

But of course you still can buy the Book "Hinterland"..., which sells quite well and has gotten some nice reviews! We are really happy with it. So, if you don't have it already... buy ;-)

Lopster,8th jan 2011





....just some self publicity... ;)

Our book "Hinterland" now is nearly out! (See news from "summertime")
You can pre-order it from Amazon...



Of course we are not dragging you to buy a book. But we would like to see it sold out soon. ;)
Buying the book shows not only a good taste in books, but also in music.
Further we have launched a beautiful website, where you can get some more information about the book (before buying it). http://www.hinterland-stories.com
Although the book is, till now, just availlable in German language, the website is also in English to make the English speaking world drool, too. [we are still busy with the translation of the stories. More about that on our facebook-website.]
And, last but not least, you can meet a few of us at the "BuCon" in Germany, where we will be presenting the book and have a little lecture at october 9th.

Lopster, 23th Sept 2010





Summertime....

It's hot outside. After a loong and cold winter we finally got some sun this year. The world still is a mess. Oil disaster, Money crisis, War, Bilderbergers... ack! We are just feeling very bad about that and we demand a better future. And we like to express our protest here, before we will be dealing with the Bowiefun issues.
--------** protest line **--------
Now back to Bowiefun.
We finally found out now, how to rework the Little-Bo-calendar-website with the netbook and so the "Bokalender 2010-Website" finally is online! ;-)
Yeah, 2010 isn't over yet, but we hope next year we will be more quickly. But first we have to repair the big computer... *cough* ...well, this is something to take care for soon...
Another, more exciting topic for our summer news is the following! Easter we presented the novel "DasKind auf der Treppe" written by our comrade Karla Schmidt (we hope you read it already) - and now we proudly announce another great book: "Hinterland" - a collection of science fiction short stories, that will be released this October.
The special thing about these short stories is, that they are related to Bowie. Every story is based on one ore more Bowie songs.
But it's not silly fan-fiction (hehe, we know where to look for silly fan fiction ;)), no, these stories are inspired by Bowie songs, but they also would work fine without being Bowie-related. There are twenty exciting, great stories waiting to be discovered by YOU!
At the moment they will just be availlable in German language, but we are also hoping for English translation. (and, yes, your webmaster wrote one of them ;))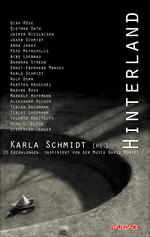 You can find all news and the "tracklist" of the book here: www.karla-schmidt.de/Hinterland
The "Hinterland" also is on facebook.
Stay tuned.... for "Hinterland"... released this October in Germany!
(You see, Bowie does not release anything, but we do - :-))

Lopster, 29th June 2010





Happy Easter!

Ack, we are still discussing the easter issues with out good old friend Killerlope.
But, nevertheless we are wishing all of you very happy easter holidays!
Unfortunately K-Lope sat down on our computer and now we are working with little netbook, sorry.
That's why the Bokalender2010-website isn't updated yet (very embarrassing, I know...)
We promise to take care for that soon!
While you are waiting for Bowiefun to be updated (and if you like reading German) you might enjoy reading this very exciting novel!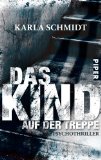 Lopster, 30th March 2010





Happy Bowiebirthday!

yay! The Sailorman turns another year older today! Happy Birthday! :)
Hope he has a wonderful day... and that very soon he might be bored by not-recording-new-material ;))

And, as promised - here it is! The new 2010 Little Bo pocket calendar! :)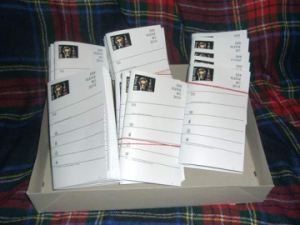 Next week we will update the Bokalender2010-website.
Lopster, 8th January 2010





Happy Christmas!

Yes... again not many news this year, neither from Bowie nor from us...
But we're still here and wishing all of you a very Happy Christmas and a wonderful new year 2010!
and... stay tuned... in a few days we'll announce the new Little-Bo-Pocket-Calendar for 2010!
Lopster, 20th december 2009





HAPPY EASTER!

Ack! Another year is over! And there is another easter holiday! Here we can see Little Bo wishing you a very happy Easter!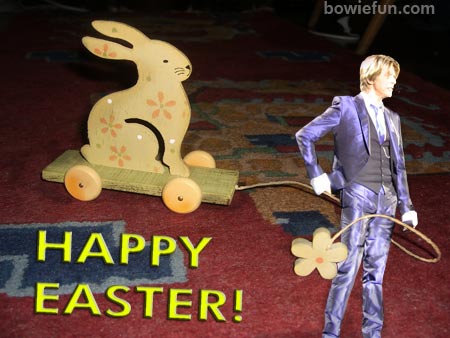 And as the jackalopes still are on easter-strike we decided to replace them with that wooden bunny on wheels.
That's business. :D
Lopster, 9th April. 2009





Happy Birthday Bowie!

Yes... old Sailorman turns 62 today. Bowiefun wishes all the best for the special day! :)
Have a wonderful time and we hope that all is well!

What else? Well, we are having a new interesting year. Happy 2009! (*cough*). Well, at least the owners of the new 2009-Little-Bo-Pocket-Calendar might enjoy the new year ;)
Yes, Bowiefun celebrates the third edition of the very popular Bo-calendar.
The owners of the calendar might find some interesting information on this website:
Bokalender 2009 (all in German!)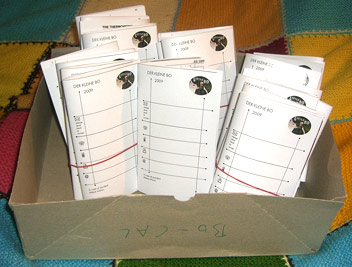 Sorry we did not announce this new edition here in Bowiefun to give you the chance to order one. But we are really afraid we could get in trouble selling stuff like that on this website...
Lopster, 8th jan. 2009





Happy Anniversary...!

just to mention it... Bowiefun is now exactly 6 years online! :))
It was launched in early November 2002, after Bowie's "searching-for-jackalopes-tour"
(oh, what fun we had! haha!)...
gawd, we are now posting anniversary-news just like B-net does...! Welcome to the museum! maybe we now also should start selling tacky "collector's items"...
old-Lopster, 6th November008



Bowie's back...!

...and so are we... :) ...with a little tribute to our beloved Pink Blobs. Yes, the b-netters here know, what I am talking about...



watch it here!
Lopster, May008



Happy Easter!

Bowiefun wishes us all and especially the Sailor wonderful Easter holidays!
Yes, even the jackalopes could be bribed to play the easterbunnies this year ;)
...and have a look at the movies... - there is a new one added...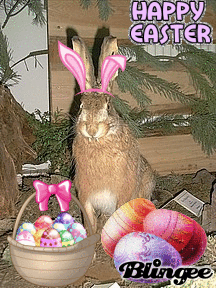 We hope all is well,
many regards + all the best!
Lopster*, March008

*thanx ladystardust94 :)


Hi ho!

Happy New Year!

...eh... yes, we are still alive and kicking!

And, just when we thought about updating the Bowiefun-website, the hard drive of the Bowiefun Computer with all the updates crashed! It happened just after the legendary annual Berlin Bowie Birthday Bash (BBBB) 2008. (btw.. Happy Birthday, Sailor!:))
You see, we had lots of updates, but they are lost - or maybe they are not lost. Guess they are still on that damned hard drive! And we are still searching on the few backups we made. And there is even hope for total data recovery, which is terribly expensive, but maybe worth it (we are still discussing that with ourselves...).
Yes, blame us for not having made proper backups. After that bad incident in July 2003 (see "scandisk's revenge" on this site), we really swore, always to save everything. But the DVD-burner got slow and lazy with the years... burned a lot of crappy DVDs. And that hard drive was nearly NEW. Yes, kidz, be careful with Maxtor's 250 GB Barracuda. This one crashed without reason just after 7 months in use. We are still sad + angry about this. We think, warranty should not only cover the cost of a new hard drive, but also the cost of data recovery. Then they would sell better hard drives. Bleh :P

And now to something completely different:
Bowie? Yes, of course. Not much news about Bowie this time. He's as lazy as we are. So what.
But we really enjoyed the High Line Festival last May in New York, and little Lord Royal Highness (LRH) also was a cutie. Now we are looking forward to see that "August"-Movie about the "dot.com-crash". Maybe we will see some more crashes this year? Bowie always has a good sense for timing... :}

Here's what you can expect in the next few weeks on Bowiefun when we sorted it all out - and if the worldwide internet then still is working:
- Some News about our cute little comrade, Little Bo. There are many new pictures
- A new bonuspage... yes... it's beautiful.. but old...
- The next level for our very well acclaimed Bowiehugging game
- More art of KhanKidory - great Bowie Tarot
- Some new jackalope sightings
- Our "Linkx" need to be reworked. They are totally out of date
- Bowie in Space (accompanying Duncan Jones' new Science Fiction movie "Moon" ) -- get a
glimpse here)
- We thought about posting some of our favourite Bowie-Blingees
- Some news about "Max", the new Bowiedog (see also our new poem about, why Sailor does not walk the dog)




Bowiefun is now also on myspace. But not as "Bowiefun", we want to keep the Bowiefun-stuff here. But you can meet (and be friends with) us at:
http://www.mypspace.com/lopusmagnum
It's the music website of "Dj Lope" aka "K-lope"...
(You might know most tracks already from here).



But we must warn you - we are not very busy over there. Just wanted to BE there, too.

And last but not least - we have been lazy in the internet but busy in the non-cyber-world ("real life") and created a new pocket calendar with Little Bo. It's already printed and delivered to our German fans and friends. Enjoy! Here's the little website for the owners of the "Little Bo pocket calendar 2008" (German).


yes... sorry next time we will offer it here, too! (But we are not sure, if this would turn this website into a commercial one, and this could cause a lot of trouble - especially in Germany with its insane internet laws - and suddenly this website would be closed and your webmaster would be either in jail or in the debtor's tower).

Ah, yes our relaunch - we are still thinking about this ...a really nice up-to-date website with php and blah blah... But honestly, we like primitive html-pages. And we like to write each tag of the crappy code ourselves. But we are still thinking of some decent html-relaunch soon... ;)

We are wishing you (and ourselves, and Bowie) a wonderful new year!
(Although we are feeling a bit apocalyptic about this year - the Big Bowie Conspiracy [BBC] is still on!)

Many regards for this time, go on playing Bowiehugging. He needs it.
J- and K-lope, Feb 2008

PS: ;-)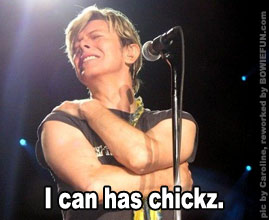 CHEERS!
Yeah! Celebrate with us! No, not the Bowiebirthday... that was...eh... last week..? Well, nearly..! And... everyone watched "The Prestige"? Fine!
Now let's celebrate the official release of our long promised Bowiefun Game! Yes, some people keep their promises... haha-... [no, that was mean - ]
You thought, it would never happen.... like "Toy" and "Contamination II" and the legendary and lost "Al Fame Diaries" - but – here it is: Bowiehugging - the Bowiefun video game!
Hehe... we know your secret wishes... your dirty fantasies...! Don't tell us, it's just the music... *evillaugh* ...
And now we see this game has become quite realistic... always when you think, you cought up with him - he's vanished, quick little beast! :-P (But buy a new mouse and show him that you still love him...)


...and click to launch!
Sorry, when the whole thing looks a bit outdated... :-)
...read more about the game-history here!

Further we also very proudly present the first Bowiefun-CD for download in our sounds-section.
You can find all the bowiefun-music by DJ Lope and our little superstar Little Bo now in a much better and remastered quality for free download. We also offer you some beautiful cover-art to download, so that you can create your own Bowiefun-CD at home.
Speaking of Little Bo - he just was busy creating a pocket calendar for his German fans. There will be new adventures in near future.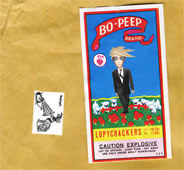 More news? Of course... we have added some more or less new pictures to our fabulous jackalope-section! While cleaning out our closet we found one recent and three older ones, which might be of interest for you.
Talking of jackalopes, it seems, the
Jackalope Appreciation Circle does not work anymore! Anyone knows what happened?
Further you urgently should have a look at "Khankidory's Bowie-Art" - and the absolutely stunning Bowie-Tarot! Truely great stuff by very talented artist Khankidory. This is not a bowiefun-page, but we are proud to host it on our webspace.
And as Bowie now made the whole world laugh with the "Little Fat Man"-Performance it seems there is now another serious competitor in Bowiefundom...
And... last but not least: *sniff*
-- Don't cry for me, HighLine!!! --
(The Bowiefun staff is still thinking of going... we really were looking forward to this...)
J.A. Lope (webmaster), february 2007

PS: ...Happy new year... especially if you are an owner of the Bowiefun Little Bo Pocket Calendar! (German language only - and sold out!)

PPS: Noticed? We have a new bonuspage ...! ...!


HAPPY BIRTHDAY!
Our Sailorman turns 60 today!
Bowiefun wishes a wonderful day and all the best for the next 60 years!
Thank you for the music and the fun we had (and still have)!
Stay tuned for more thrilling news later this week... ;-)
Lopy (webmaster, january 8th 2007)


Happy Xmas!
hi! oops, again we forgot the time... and another year's over!
Stay tuned for more bowiefun in january!
(the bowiefun video game for example! It's really... nearly...finished!)
Lopy (webmaster, december 2006)


PARTYTIME!
nice announcements make us feel better...
After nearly two years of Bowielessness - which just peaked in a cheeky fan-teasing with rumors of retirement, which made the fanbase agonize and already look for other idols (traitors!) - well, here he is again!
Bowiefun of course never believed one of the bad rumours. We know our old storyteller too well. And we admit, we enjoyd the pictures of the happily rounded Sailorman. But we even more enjoyed the more recent pictures of the never so much rounded Sailorman.
So - you know it already? Next year's a party ... a huge big fat Bowieparty.... ;-)) - but we are still waiting for more information.
Well, daily news are not our business, I know. But this had to be shared.
Now better have a look here: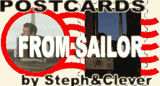 Yes, there are some good Bowiefun-news: Bowiefun got permission to publish all the wonderful "Postcards From Sailor" written to/by (*cough*) B-netters Steph and Clever since early2005. We could not bear seeing them vanish in the sticky abyss of the Bowienet-Archive.
And as this definitely is a great work in the best tradition of brave Bowiefundom, we are proud and honoured, that this website now is the place to present the postcards!
Enjoy! And, of course all the fame goes to Steph and Clever.
And...last but not least we have a great announcement! Count the Days! The long awaited Bowiefun-Videogame will very very soon be released on this website!
Lope Y. (webmaster), august 2006


NEWS! NEWS!
Long time no say...? Well, better be quiet than telling rubbish, according to our mission statement. News! Yes, flame wars are over (nearly), half of the bunch defected to myspace, and B-net is still waiting for the return of the Thin White Duke.
Just Bowiefun stands!! Like a rock in the sea unshaken... ..ok,..ok...
You see, here's a change, because the ad now also was old. And, who needs something like a "welcome"-message? Even if it's not as old... as... erm... ..my last one? And that does not mean, you are now safe from Bowie-flash-animations. They just will appear at other places... The "what's new"-page now also has vanished. We put it in the archives. In future you will see all News here on this place.
This is not the big announced re-re-relaunch... we postponed that. We found out, that we don't like using WYSIWYG-Editors, when we don't understand the code.
So, what's hip and new? ...and old, but not yet appeared on this site?
First of all, Bowie on the silver screen again! He's appearing in the movie "The Prestige" - no, it's not about a group of posh pretenders or an oil-tanker disaster - it's about magicians. See here a picture from the film shoot: Bowie playing famous inventor and pigeon fancier Nikola Tesla, who, btw, also was an alien.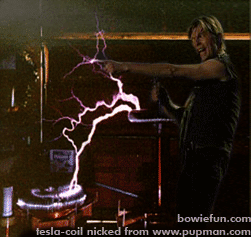 Abracado - where are you...? - Well, he knows, how to vanish...;-)
But of course we are curious and looking forward seeing this movie!
(but with Killerlopes it would be even better)
Then, the newest, very special issue of our mag "Hot Stuff" is now online... ...better late than never.... Further we show you the last, very limited edition of the Reality-album. And of course you want to know everything about the secret Bowie-Conspiracy (well, we, too). And, for your secret desires: Seen our inflatable Bowie-Doll? Then we have some additions in the fashion-corner and we found an interesting offer on ebay, which of course is expired.
More News? Of course!
Little Bo is very busy... here is some new adventure of our cute little comrade - with a special link for our German fans.
And, you won't believe it! Our looong promised videogame now is getting the finishing touches and the Betaversion will very soon be availlable. haha.
And, talking of games and similar stuff… we still were not able to fix that flashplayer-bug. Seen our old but beautiful "Bowieshow"? Looks horrible played with any other flashplayer than version5. All the embedded jpgs are displaced. And now version 8 is common! Even a professional Flashers' messageboards could not help. Any advice would be much appreciated. So that further generations will also be able to enjoy the show. Yes, and we are still looking for a new messageboard... quick, beautiful and without Pop-ups.
And, c'mon.. no! Not a new Bonuspage... nooo...! Enough news for today... :-P
No? … Ok…we now have a beautiful favicon. Just have a look in your browserwindow.
webmaster, march 2006

PS. We have now some security-code in the guestbook to prevent spammers. Don't worry, just write the exact code in the box and click "post". It works.


FLAME-WARS.... !
...the dark side of the force is strong on b-net...
Jedi Master Sailor has withdrwan.The fights were getting worse.
Even Lope Skywalker was not able to bring balance to force...
oops...time for some fresh air, eh? *cough*
Here's the view out of my window... beautiful, eh?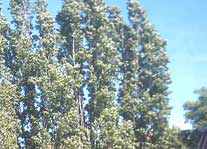 And, don't forget to have a look in our new section: Little Bo...
and some other new contributions...
webmaster, june 2005


HAPPY EASTER!
Sorry sorry sorry, my jackalopes did boycott all easter-celebrations
this year. They are fed up with being perceived as easterbunnies.
Soo we show you another secret picture of our hero instead.
Credits for this one goes to the RealCoolCat.
We just gave the hungry man something to cool down...



And... stay tuned... great things are going to happen here soooon! ;-)
webmaster, april 2005


BOWIESPOTTING
bwahh....seems the man has vanished from earth...
well, there are rumours he is now a stalking fan of a certain
canadian band... and that band reportedly has already asked for
personal security!
And, even worse, maybe he will never make any music, because the
terrific sound of that band has totally frustrated and demoralised him!
So he decided to become a happy house husband and do all the housework,
so that his wife can spend more time with her work.
He even never dares to appear on his own website - finally realizing
what a great mistake it was, to recommend that band last year!
Lots of b-netters recently quit their account - maybe we all will sometime
meet on the messageboard of that band?
Lucky New Yorkers! There are still meet&greets in Chinatown - If you have
the best tomatoes to offer.. ;-)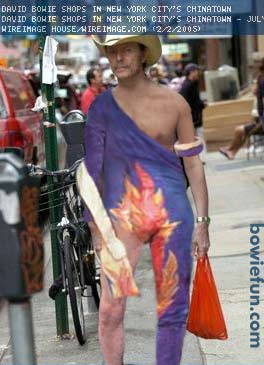 well, we knew, he keeps all his old clothes...
webmaster, march 2005


HAPPY X_MAS!
and a great new year 2005!
(just can get better, eh?)
sorry, we have no new bonuspage. We still love this one... ;-))
And this year the Sailor gave us these nice b-net-X-mas-greetings...
btw... now we know, why we couldn't make any updates - the webspace
was full!
So today we deleted some big files. Sorry, nearly all the mp3s are now
deleted to get space for the upcoming updates...
If you miss something (in the archives), send us a mail...
webmaster, x_mas 2004


DENIED!
Just to let you know...
Bowiefun wanted to be a little bit professional - and join one of the
famous Bowiewebrings - but look, what happened!
The web site you submitted to Bowie Web Ring has been denied due
to the reasons cited below by the RingMaster:
I think that wether this site is done by a fan or not, most of the people
on the ring would take great offense to it, so I am turning it down for now.
Please feel free to join another Ring or create your own....
ARGH! (certainly we removed the webring-banner)
Another webring? Certainly. Go and visit the wonderful jackalope-
appreciation-circle! This is a truely great webring with a huge sense
of humour - and the membership there pushed us massively in google... ;-)
(ok, if they would have denied because of a criminal lack of updates...)
webmaster, nov 2004


tomatoes and moustaches...
We have been a little bit paralysed here, as long as we did not know much
about the state of our most important mascot's health.
But now it seems, he's well again. He's able to buy tomatoes in chinatown,
visited a "Franz-Ferdinand"-concert and wrote some anti-bushist journal on
his website. And although the hair in his face still is a reason to worry about,
we think, it's time for some updates: What's more ugly than a moustache?
-- A coloured moustache.. :-0!
Have a look on our special beard-study on bowiefun!
Something more to tell the world: Some weeks ago our webmaster won a
special "rebel never gets old"-Promo-CD at a funny b-net-competition.
You can find the winning poem in our "poetry"-corner.
webmaster, october 2004


so sad...
Aw... sad news... from our special friend.
Now he's in hospital and some shows are cancelled.
We don't know more, but we thought about closing this site until he's
healthy again. It's not nice laughing about someone who feels bad.
But maybe this would be an act of overdoing. And maybe he needs this
site to cheer up! So, bowiefun is still here, until we know more.
webmaster, still june 2004


time...!
hiya, guys and gals and all the others...! Sorry for beeing lazy.
Although time should not be the problem anymore, it's running like hell.
And there are lots of other things screaming for attention!
Luckily we got the permission to publish Belka's great "Hot Stuff"-
magazine-covers! And my jackalope got 3 sweet little baby-lopies.
But I still don't believe in the existence of Peng-a-lopes.
Unfortunately I had to sell two Tickets. Well, you can't have it all!
But now we are waiting for the return of the big white dude to europe!
Back to the country of the crazy balloons!



here's my private jackalope! Cute, eh? Although the antlers
are rather small. ...no,I don't tell you where I got it from...
webmaster, june 2004


oops!
I have heard, Bowie is planning a new section on B-net: - Awful and
embarrassing fan-pictures..! -
...btw... was a great party at the weekend... :-))
webmaster, february 2004


winter in berlin
Thanx for all the fun we had (you know who you are :))...! Great to see Bowie, Kristeen Young + Tony Visconti and the Dandy Warhols!
But they're all far away now...
Besides that there's not much happenig these days... it's winter and cold.
I just was amused about the "bunny-incident" in Vancouver... and Seattle... poor Sailor, still missing his jackalope... ...and poor embarrassed bunny-girl...! Shame on you, Bowie!
yeah..check the (few) updates.... I am thinking of a bigger update in the next weeks/months (haw haw)... as I am now starting to discover all the nice things I can do with this webspace - and for which I paid already...
btw... looking for a job. If you have one for me, tell me...!!
(I wish I was a sailor...)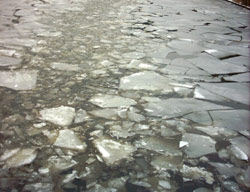 ...took this pic exactly one year ago...
but old Spree looks the same today!
webmaster, january 2004


secret pic of the webmaster
I knew, it would happen... that damned camera-surveillance! Luckily we could escape from the I-Iman-labs... if sailor knew that!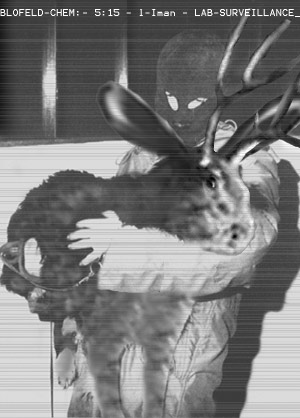 (I'm the one with the cap..)
btw... there are some updates...
webmaster, still november 2003


the lost logs..
Oh yes, I wanted to tell you more in the last few weeks.. seeing Bowie in London - and meeting all these nice people from b-net and other places. Was a pleasure!
...and I know, this page needs an update, don't tell me, but there was too much to do in the last weeks!
webmaster, november 2003


stalking in the rain....
waiting before a berlin hotel.... waiting for the sailor... but seen nothing. Just got terribly wet in the rain! so, the next day we had the pleasure to be just there, when Bowie entered the "einslive"-studios in Potsdam.
But the old sailor had no time for us and vanished in the building-- and his evil bodyguards pushed us away. Bwah!
So I didn't get an autograph. And I did not see, that he wore a jackalope-T-shirt! just saw it later on some fotos! yeh, sailor, nice to think of your old furry friends!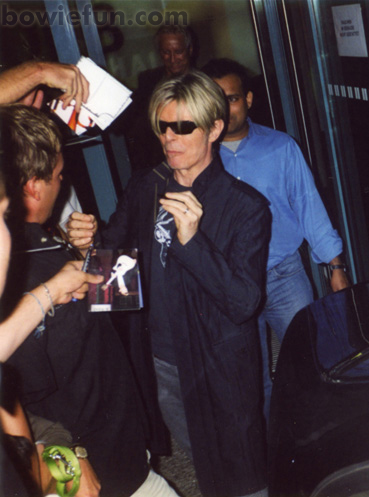 no - I am not a paprazzi...oh no - but this picture, I think, is quite OK...
webmaster, sept 03


meet me in London!
Bowiefun is back! with a new FTP-programme and fast internet-connection! And some more great things to announce: As we all know, sailor will play a very special gig on 09/08/2003 at London Riverside-studios. And - guess who - your webmaster will be there!
But first Bowie will come to Potsdam - a little town near the Bowiefun-Headquarters. And, as we don't think he's here to visit the Bowiefun-ateliers, we will try a little bit stalking - wish us luck!
webmaster, nearly sept 2003


the story of reality...
Now we have to announce something very nice. Big Sailor himself has noticed our work, which we posted on B-net on 28th of july:
"I think your 'toon is just wonderful! Really loved it,J. --sailor" ---eh? ..*grin* Certainly YOU don't need to become a member of B-net or search all over the messageboard to see the little toon. YOU can find it just here on bowiefun! Look for "reality - the story".

webmaster, august 2003


scandisk's revenge
well, now we have a better reason to be depressive. Unfortunately we had a serious harddrive-crash just some days ago! Luckily the very few most important files could be saved... but some very important programmes and all the bowiefun-footage (and many other files) are gone. Scandisk, my special friend, worked three hours, pretending to save the files... but, 16 GB are lost...
webmaster, july 2003


first entry...
....unfortunatelly your webmaster is a bit depressed these days - although there's a new Bowie-tour announced and I have already ordered two tickets... but seems, it's all too much for my little heart...
maybe I'm just afraid, it will be boring and commercial.
webmaster, june03





Press: voyeurmagazine april 2003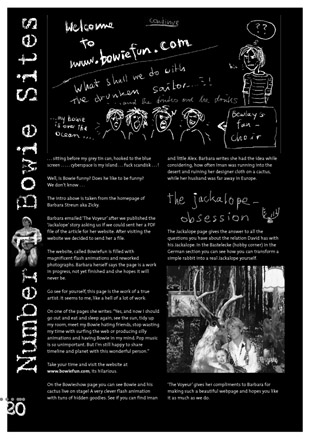 *cough*


much more to come!